Storage Furniture For Smaller Spaces
First things first. Baskets are great. They have been storing our stuff for 1,000s of years. Throughout these suggestions, I'll be constantly bringing up baskets… because they are great. No matter what you are doing to create more storage, baskets can add functionality, organization, and beauty. They can store things all by themselves but when mixed with furniture offer a terrific way to store and organize all your stuff.
Kitchen:
Cast Iron Wall Board
Those who cook a lot know cast iron is the best cookware you can buy. It is perfect. It heats evenly and distributes the heat over time. It is easy to clean if you know how, just clean out any particulate and burn it on the stove to evaporate any water and kill any bacteria. Heat cleans better than soap. When it is seasoned properly it is non-stick but in a healthy way. All the non-stick cookware out there today is very unhealthy as people eat that non-stick coating when the pans wear down. Plus cast iron provides essential iron nutrition to your diet. Yes, you actually get iron nutrition by using cast iron.
So now that we've gone over cast iron's virtues here's why I love this way of hanging cast iron on the wall. After burning your pans out you can hang them hot and let them cool there. Otherwise, you would have to let them cool on the stove until they can be put away. In this example, they just have a board with hooks but I like a full wall board to protect the wall from the heat and getting dinged up by the skillets and pans. The more dings and burns on your wallboard the more rustic it'll look. Floor to ceiling. You can hang everything here.
---
---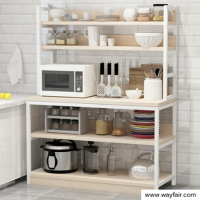 Baker's Rack
Baker's Racks are great for any kitchen. It provides a workspace and room for all your appliances as well as storage for kitchen stuffs. They come in nearly infinite variety but I picked this one because I like the open shelf style so I can get to things easily and can see what's on it in a flash. I often look at my supplies to determine what I want to make. If you want a tidier kitchen appearance you could get doors, cabinets, or all sorts. I'm a fan of buying goods in bulk and then transferring them to containers for long term storage and use. Glass jars, ceramics, and baskets. I love glass jars since as previously stated I like to look at my supplies while deciding what to make. Ceramics are good for when you know what's inside and want to keep the light out (coffee, tea, flour). And of course baskets for small items like bottle openers, wine corkscrews, wine stoppers, or clothespins to seal up open bags or foodstuffs like bananas, onions, garlic, and other things that are stored at room temperature.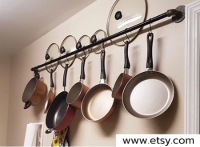 Rail rack and hooks
These things are great for storing pots and pans with handles and the lids that go on them. You can hang your pots all in one place and the lids are just tucked into the gap between the rail and the wall. Super easy access. You can also hang utensils that are maybe too large to conveniently store in your kitchen drawers. This is an easy solution to provide storage and accessibility.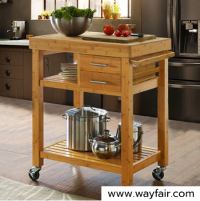 Rolling Kitchen Cart/Butcher Block
This is a must-have for anyone who does a lot of cooking. You can move it around your kitchen and put it out of the way when not in use. The best kinds have a thick board on top to use as a cutting/butcher board. If you are tight on counter space this is a lifesaver. The example here has pots and pans and dishes on it, but that's not very practical. A perfect addition would be your additional cutting boards so you can load them up with separate veggies and meats. (BTW always have a dedicated raw meat board so you don't cut fresh veggies on a contaminated meat board by accident, I like to carve "meat" into it so I know which one). You could store your knives here. Meat hammer, graters, anything you usually use along with a cutting board.
---
---
Living Room: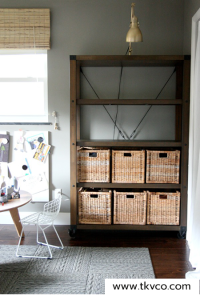 Bookshelves and baskets
That's right, baskets. Our friend is back and better than ever. Bookshelves are great to place things on but if you overdo it everything will fall off. Enter the glorious basket. These can hold all sorts of things while making your bookshelf look nice. You can pull the basket out, rummage through it, carry it around, then put it back. A perfect storage solution allowing easy access. A mixture of baskets and spaces filled with decorative items or, well, books will make the whole thing look good while providing excellent storage.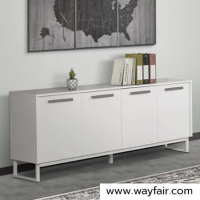 Console table/storage
Console tables are basically any long relatively narrow horizontal surface. They are commonly deployed as tv stands, hallway or behind the sofa furniture, or anywhere you need a long piece of furniture up against the wall. They can be open underneath and just provide a horizontal surface to put things on, but if extra space is your goal you can get one that has doors or shelves and acts as storage. Our old friend the basket could be deployed here if you have open fronts. Or even to organize things stored behind closed doors. These long narrow tables are a great way to utilize space since they are up against the walls usually and therefore out of the path of movement.
Seating Storage Bench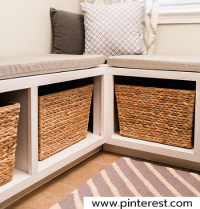 You can turn any solid storage box or container into seating furniture with the addition of cushions and pillows. Just make sure the boxes can handle the weight of someone sitting on them. This could be as simple as milk crates or something handcrafted. If you do use lots of independent containers make sure to tie them together so they don't scoot apart and drop the sitter on their behind. In the example provided you see pull-out baskets. As always, a great way to store and organize while allowing easy access.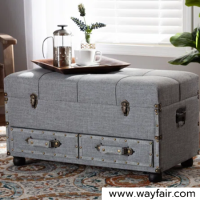 Storage Ottoman
I think these things are called Ottomans because they were used in the Ottoman empire to sit on. Nothing has changed. These things are great to allow guests to have a seat when you have a full house. They also serve as a table of sorts if you like or a footrest. And like all the things mentioned in this article they are good storage and space savers. I picked the Ottoman in the image because it is a super storage version. Most aren't this complex. This one has drawers and a flip top. Also being on wheels is convenient as this sort of furniture gets moved around a lot and if there's heavy stuff inside the wheels will come in handy. Most Ottomans just have a flip top. This is a great place to store blankets, pillows, or other items you might want while on the couch. They are within easy reach when you get chilly but just as easy to put away when not needed.
---
---
Bedroom:
Bed storage box
There are a bunch of options for creating storage space under your bed. It can be as simple as stuffing things under it or a nice storage solution. I thought this was a nice example as it stores the bed sheets, extra pillows, and linens in the bed. So you can get them out when you change the sheets and make the bed. Most solutions involve storage around the perimeter of the bed but this solution uses the whole underside for storage.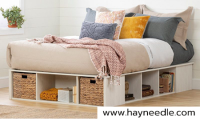 This is an around the perimeter storage solution. It has the advantage of being easily accessible but does not utilize the entire space under the bed. I like it because it has baskets. We already know how I feel about them. Another solution is slide-out drawers on rollers so it's easy to get stuff in and out.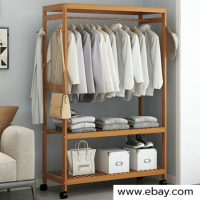 Garment Rack
Often when space is confined, closets are small or not existent. Garment racks are a great way to get around this. The one pictured has nice rollers making it easy to move around the room or maybe even in and out of an existing closet. I use baskets with open tops at home to store underwear, socks, t-shirts, and other things that don't go on hangers. This solution would work perfectly well with this garment rack too. Just put the baskets on the shelf and all your clothes are easily available.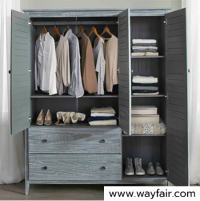 Armoire
An armoire can be a great choice if you need more closet space or don't like the open solution a garment rack offers. The armoire is a nice piece of furniture and when you open it, voila … a closet. Armoire's come in every variety and style. Some even use them as tv cabinets to hide the tv when the doors are closed. They are great ways to organize your clothes especially if you don't have any closet space available.
---
---